Boots Starke Goacher, Crawley
Telephone - 01293 539789
Out of hours emergency number - 07939 056657
Boots Starke Goacher - Solicitors
308 The Pinnacle, Station Way, Crawley, RH10 1JH
Telephone 01293 539789
Out of hours emergency number 07939 056657
This firm is regulated by the Solicitors Regulation Authority No 00363130
Boots Starke Goacher - About Us
Andrew Bullivant - Partner at Boots Starke Goacher
Andrew Bullivant was called to the Bar in 2000 and then qualified as a Solicitor in 2005.
Andrew, as a Solicitor Advocate represents clients in the Police Station, Magistrates Court and the Crown Court alike. Andrew also represents client's in the Criminal Division in the Court of Appeal based in the Royal Courts of Justice in London.
Andrew handles all types of criminal cases, notable areas including murder, manslaughter, serious sex offence and drug cases.
Out of work Andrew's main interests are in music and sport.
andrew.bullivant@bsglegal.co.uk
Jeremy Boots - Partner at Boots Starke Goacher
Jeremy Boots qualified as a solicitor in 1996.
He has dealt with cases of murder, fraud and organised crime.
Jeremy has a particular interest in youth court work.
Out of work, Jeremy enjoys all types of sport and takes a keen interest in history.
jeremyboots@bsglegal.co.uk
Lorraine Adams - Associate Solicitor at Boots Starke Goacher
Lorraine was admitted to the Roll of Solicitors in 2007 having qualified through the ILEX route,
gaining valuable experience as a Police Station Representative and Crown Court case worker whilst
Training.
Previously a partner at a firm in Huntingdon, Lorraine returned to Sussex to practice in 2015 where
her focus turned to representing clients at the Police Station and Magistrates' Court in all criminal
matters. Lorraine places a particular emphasis on helping those with mental health difficulties and
addictions.
Outside of work, Lorraine enjoys time with her dogs and horses and attending music events.
lorraine.adams@bsglegal.co.uk
Boots Starke Goacher
308 The Pinnacle, Station Way
Crawley, RH10 1JH
Telephone 01293 539789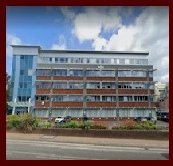 308 The Pinnacle
Station Way
Crawley
RH10 1JH
BOOTS STARKE GOACHER
CRIMINAL SOLICITOR CRIMINAL LAWYER
AREAS COVERING:-
CRAWLEY
BURGESS HILL
HAYWARDS HEATH
HORLEY
HORSHAM
EAST GRINSTEAD
REDHILL
REIGATE
SERVICES
POLICE STATION REPRESENTATION
LEGAL SERVICES
LEGAL AID
DEFENCE
HELP
CRIMINAL DEFENCE
LEGAL REPRESENTATION IN THE FOLLOWING CASES:-
COMMERCIAL FRAUD - BENEFIT FRAUD - ASSAULT - ABH ACTUAL BODILY HARM
GBH GRIEVOUS BODILY HARM - YOUTH COURT - MAGISTRATES COURT
CROWN COURT - MOTORING - SPEEDING - CRIMINAL DAMAGE - AFFRAY
MURDER - DRUGS